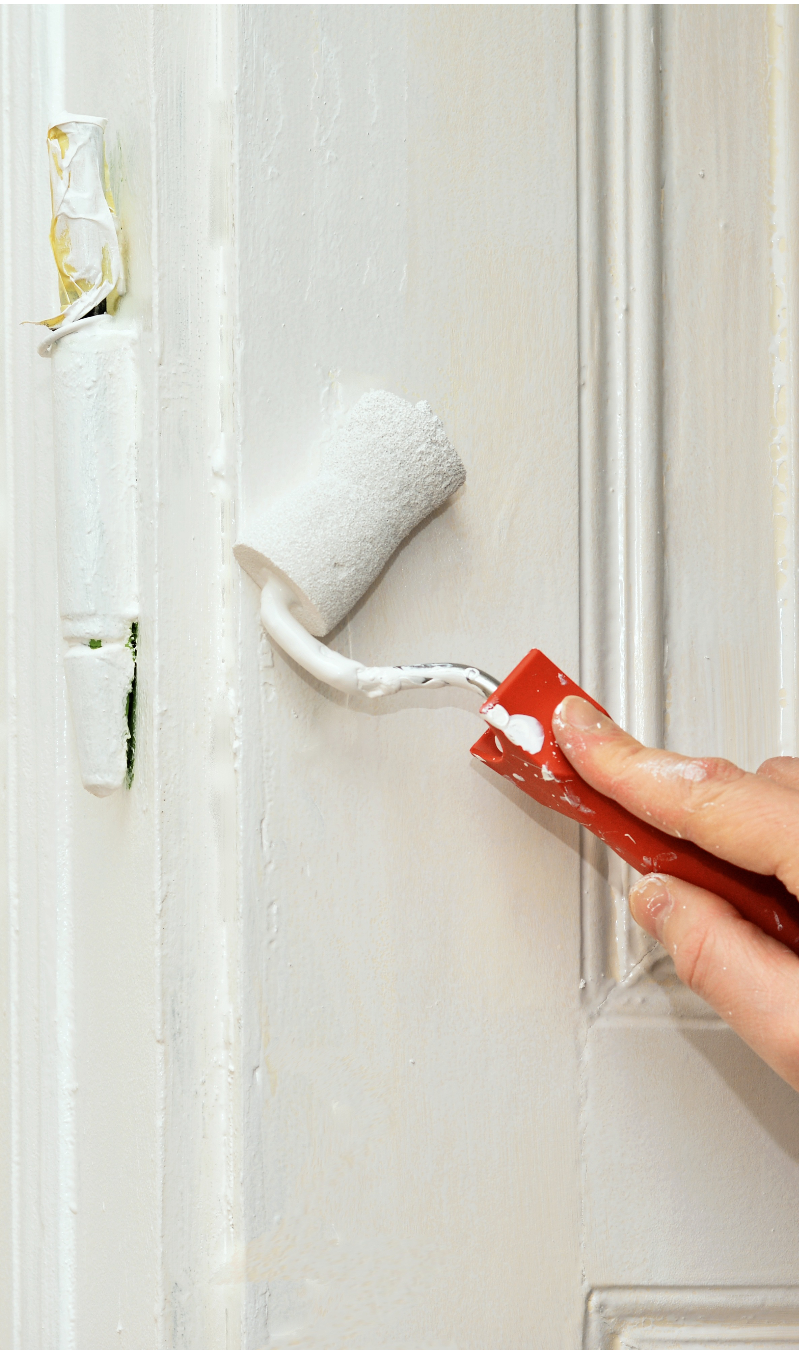 Professional
Door Painting In KL & Selangor
The front door is the main entrance point of a house. So the appearance of front door is very important because this will give the first impression when your visitor enter your house. Many houses nowadays still use wooden door as their main entrance door. When it comes to door painting, you can't take it for granted to simply paint your door. A proper preparation, choosing the right tools and materials and good technique will result in a silky-smooth, long-lasting finish.
There are many advantages to consider when dealing with wooden door painting.
1. Protecting wood. Because the solid wood door is harder, it is easier to polish the wooden door to become smooth like your hand. If there is no protection layer apply on the wooden door, it will be extremely easy to be scratched or worn, losing the texture of wood. Thus paint can be used protect it.
2. Prevent wood deformation. The water content has a great influence on the stability of the wood. Sealing the surface of the wood with paint can prevent the external moisture from rapidly infiltrating into the wood, and can prevent the internal moisture from being excessively evaporated. This will ensure that he wood is not deformed easily.
3. Let the door ever lustre after used. If the bare wood are directly exposed to the air, they are susceptible to corrosion and oxidative discolouration. After apply few layers of paint, the wood does not come into direct contact with the air and this will be able to preserve wood.
4. Feel more delicate, easier to clean and maintain. Even if you have a very detail polish on the wood, it is impossible to seal all the wood grain lines. When dust or dirt get stuck inside and it is difficult to clean. After painting, the wood grain lines are sealed and it can be easily clean with a rag and thus easy to maintain.
We are professional painting company with many experienced and skilled painter. You can rest assure to get excellent services with peace of mind and hassle free experience. Contact us now to get your FREE quotation with no obligation.
LET US HELP YOU FIND THE RIGHT SERVICE
Type of Residential Painting Services
From Our Happy Customer
Testimonial
"I just bought my second hand double storey link house in Puchong and wanted to repaint my house. My friend recommended Wits Painting Services pro. I'm very satisfy with their service and workmanship. They even do the cleanup after job is done on the day. Good job!", Gina Wong
Pricing
Painting Service Packages
Condominium / Apartment
Interior Painting
Build-up size 1000 sqft or below

Wall only (all white)

With labour and tools

With economy paint (ICI Maxilite or Nippon Matex)
Double Storey Intermediate
Interior Painting
Build-up size 2000 sqft or below

Wall only

With labour and tools

With economy paint (ICI Maxilite or Nippon Matex)
Double Storey Intermediate
Exterior Painting
Build-up size 2000 sqft or below

Wall only

With labour and tools

With weather resistant paint (KCC Weatherforce)
Our Coverage Area
We cover most area in Klang Valley. Get In Touch For a Free Consultation
Kuala Lumpur
Petaling Jaya
Puchong/Seri Kembangan
Subang Jaya/Putra height
Shah Alam
Klang
NOTE: can't find your area? call us at 6011-6328-1268 to find out more coverage area
FAQ
Frequently Ask Questions
Do you provide touch up painting services?
Yes, we do provide touch up painting services. We accept all type of painting services job irregardless the job scope is small or big.
how long do you take to paint my residential double storey link house?
The duration for residential house painting services depends on the size of your house and area to paint. For a standard double storey intermediate link house, we can complete to paint interior and exterior of your house within 1 week, provided weather condition is good.